FIRST 100 YEARS: The Professional Female Playwright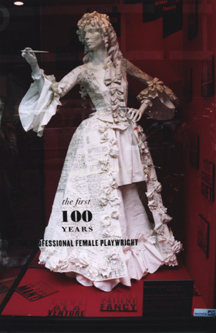 FIRST 100 YEARS WINDOW INSTALLATION
up through December 31
at the Drama Book Shop,
250 W. 40th St. (between 7th & 8th Aves.)
New York City
212- 944-0595 x417
Featuring the work of scenic designer David Barber and costume designer Loren Bevans.
Bevans' concept for the window takes up where Branwen MacDonald's First 100 Years print campaign leaves off. Whereas the print images undermine assumptions and exhort viewers to learn more about women playwrights of the 17th & 18th Century, Bevans sought to make a strong link between these artists as women and their words, texts and thoughts by creating a mid-Eighteenth Century paper dress constructed from copies of original manuscripts by playwrights Elizabeth Inchbald and Susanna Centlivre, manuscripts images provided courtesy of the Folger Shakespeare Library, Washington DC.
"Loren developed the idea of a woman representing all of the playwrights actually fabricated out of their manuscripts. Once she and I sat down and discussed the idea, I knew that we should place her in a bold, spare "container" that would showcase all of the detail work and complexity of the white figure. My notion is that the figure's strong contrast with the bright pink surround and modern-print play titles mirrors our re-discovery of these great landmark artists of the 17th and 18th century today, in the 21st century." David M. Barber
The Drama Book Shop will be in special partnership with The First 100 Years devoting a special section of books (plays, biographies, design books, criticism, etc.) to Women Playwrights of the 17th & 18th Century English stage.
SO… don't stop with just the window; go inside and find out what else you don't know.
DRAMA BOOK SHOP WINDOW INSTALLATION
COSTUME DESIGNER: Loren Bevans
SCENIC DESIGNER: David M. Barber
ADDITIONAL CONSTRUCTION: Alison Hanson, Deborah Teller, Sabina Vajraca
Thanks to Heather Wolfe, PhD Curator of Manuscripts Folger Shakespeare Library,
and MATERIALS FOR THE ARTS, DCA
Loren Bevans (Costume Designer) designs for theater, dance, opera and film. Recently noted for her work on Juggernaut Theater Co's Lapis Blue, Blood Red, she has been designing in New York primarily for the last 12 years. Credits include: L'Enfant et les Sortileges, Much Ado About Nothing, Twelfth Night, Hamlet, Romeo and Juliet, Macbeth, The Rover, Nervous Splendor, Ophelia: A Tragedy of Repetitions, Let's Play Too, Waiting for Lefty, The Lion, the Witch and the Wardrobe.

David M. Barber (Exhibit Co-designer) New York credits include sets and/or costumes for Tinderbox Theatre Group, Juggernaut Theatre Company, Classic Stage Company, Blue Sphere East, Rattlestick, Actors Studio Free Theatre, Cucaracha Productions, The Kazbah Project and dance pieces by Gabriel Lansner. Regional credits include sets and/or costumes for Center Stage (Baltimore), The Colorado Shakespeare Festival, Bard College, Action Theater Company, Axis Theatre Company, Splitting Image and others. Production design includes "Woodstock '99" (FOX Television and Metropolitan Entertainment) and the short film "Also Lies", directed by Leah Gelpe. David's work has represented the U.S. in the Prague Quadrennial International Exhibition of Theatre Design. He is a founding member and Co-Artistic Director of Tinderbox Theatre Group.
Also, see these lists of books about our featured playwrights:
JUDITH BAILEY (JOANNA BAILLIE)
APHRA BEHN
SUSANNA CENTLIVRE
HANNAH COWLEY
ELIZABETH INCHBALD
!